WC 21.01.19
This term we have been looking at the art created by Jennifer Angus. This week in our Art lesson, the children created their own insect sculpture out of clay. They tried extremely hard and put a lot of effort into the detail. 
Science - Light and Shadows 
This half term we will be investigating light and the absence of light. Children will be able to explain how shadows are formed, and why not all objects create shadows (e.g. if they are transparent such as glass).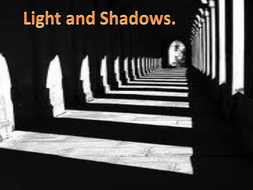 Geography - Where in the world are we?
In Geography, we will be studying globes and atlas' to locate our country and continent on the Earth. We will be able to explain our location using geographical language such as latitude. longitude, equator, as well as Northern and Southern hemisphere. 
w.c 14th January 2019
This week in our computing lesson we planned our films by deciding where our presenters, camera operators, director and producer would be. We also played quiz, quiz, trade to test each other on our technical vocabulary knowledge for this topic.
wc 10th December 2018
Today the children learnt about risk and what this could look like everyday. They decided whether scenarios were low, medium or high risk and then after acting them out in groups, decided what could be done to minimise that risk.
wc 3rd December 2018
This week the children were learning about what the human body needs to keep healthy. They looked at the different food groups and the amount needed of each one to maintain a healthy diet. They then investigated food that would be found in a normal household. Using the information on the back, they noted down it's nutritional value and then discussed whether this would be considered a healthy food or more of a treat.
wc 26th November 2018
Class 7 learned about loss and how it affects different people. They discussed what loss could actually mean and that it could be someone moving away as well as losing a loved one or pet. They wrote down the emotions that someone may feel and that it's ok to feel this way, there is no right way to deal with it. To finish off, they wrote down they way people may feel when they think of the happy memories they have of their loved one.
wc 19th November 2018 - Road Safety Week
Class 7 used tally charts to record the amount of cars that went down Coronation Avenue in 5 minutes and then recorded this information using a bar chart. They will use this information to write a persuasive letter to the council about why a crossing should be installed on this road.
wc 12.11.18
It was the Spelling Bee and 8 children took part in a fierce battle of words! They all did incredibly well and spelt some very tricky words.
wc 5th November
On Friday, Year 3 all went on a school trip to Magna to learn all about rocks and the Earth. They took part in a workshop about the creation of volcanoes and how to classify rocks and then had the opportunity to explore the four pavillions: earth, air, water and fire. They all had a great time!
wc 29th October
On Friday, it was Times Table Rockstars day. The chldren all came in dressed as rockstars and we had a great day using multiplication in lots of different activities. Class 7 and 8 went head to head to see who could score the most points online by answering multiplication questions...the winners are to be revealed soon!
wc 15th October
On Tuesday afternoon, Year 3 had their learning together. It was a great opportunity for parents to come and take part in an active lesson learning about how volcanoes are formed over millions of years. Everybody involved had a great time and we look forward to the next learning together.
wc 8th October
This week, Class 7 had their class assembly. They worked really hard to learn all their lines and they were amazing in front of all the parents and other children in school. Well done Class 7!
wc 1st October
Today the children investigated the spelling rules for words ending in -ture and -sure. They identified the sounds that can be in each one and how they know which spelling to use. Then they played spelling battleships using the words they had learnt.
wc 24.09.18
This week the children took part in a Gamelan workshop, an ancient form of music that originated from Indonesia. The children learnt all about the customs and traditions associated with Gamelan and had the opportunity to learn how to play some of the instruments.
wc 17.9.18
This week, Freddie Fit came to visit and we had a great time doing lots of stretches and activities designed to get our hearts pumping and our bodies moving.